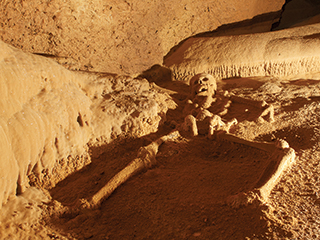 Actun Tunichil Muknal (ATM)
Deep within the forests lies a wonder of both ancient and natural Belize. Following a 45-minute drive from San Ignacio and a 45-minute hike through the beautiful Tapir Mountain Nature Reserve with numerous jungle stream crossings, visitors find a crystal-clear stream flowing from the cave opening.
Take a short swim into the cave and a guided hike through the passage to one of the most impressive Maya sites in Belize. Also known locally as "Xibalba," you'll find evidence of ceramics, stoneware and skeletons.  One artifact named the "Monkey Pot" is one of just four found in Central America. One skeleton, known as "The Crystal Maiden," is the calcified bones of a teenage girl, giving the skeleton a sparkling appearance. 
Please be aware that seeing the amazing ATM is a bit physically demanding and you'll be swimming through the cave at points. If you're not currently in shape, this could be your incentive to get fit.
Believe us, it's worth it.