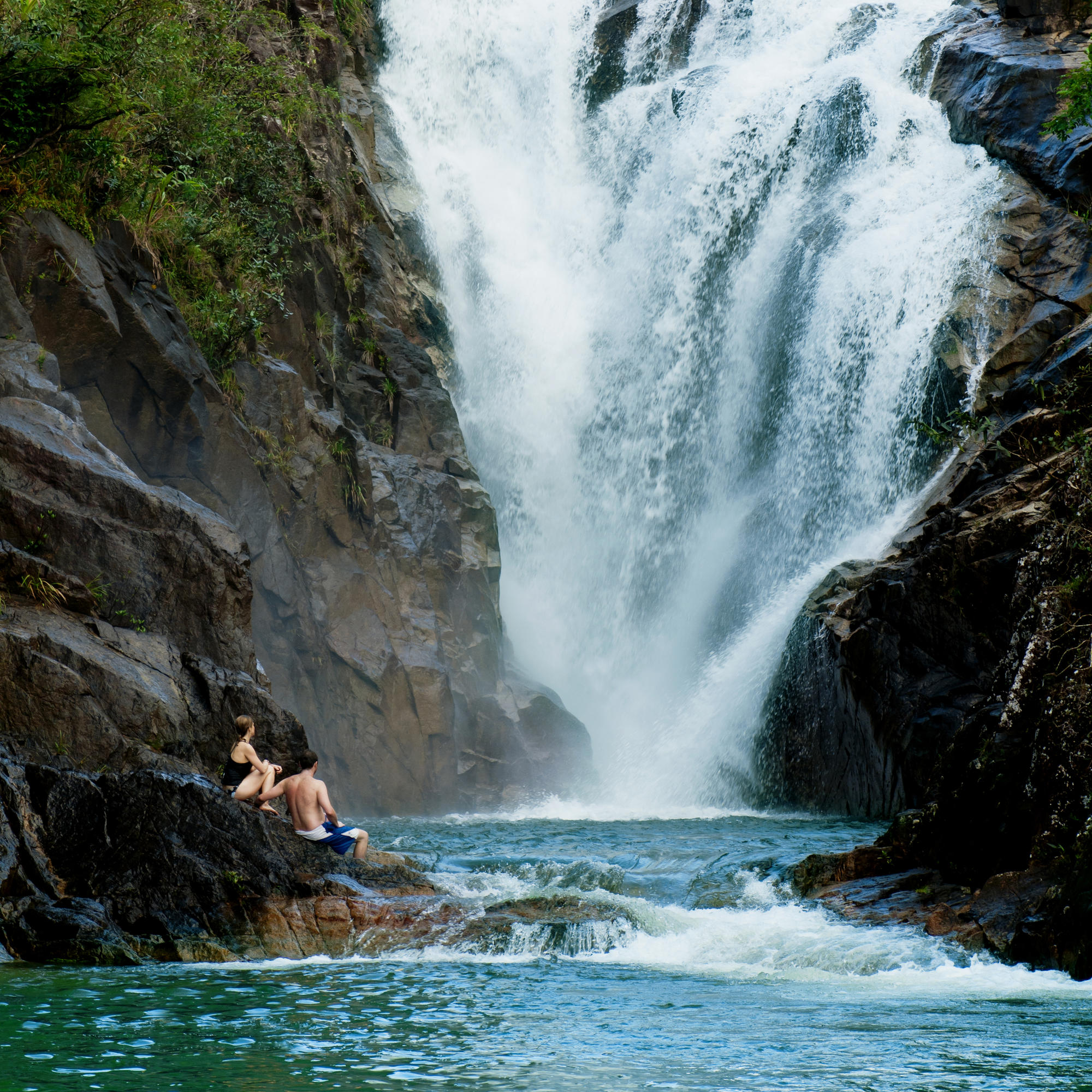 There's a reason there's such a thing as 'hidden gems,' and Big Rock Falls is the prime example of this. Tucked into the Mountain Pine Ridge Forest Reserve this waterfall literally prompts your jaw to drop once you lay eyes upon it. Magnificent, monumental and massive, Big Rock stands tall with a small pool at the bottom of it, flowing into a bigger cenote that rushes over large rocks (hence, the name.)
After numerous wooden stairways plunging into the forest, you will arrive at the bottom where the 150-foot waterfall stands. After all those steps, launching yourself off a rocky cliff into the pool is just what you need. If you'd rather a more relaxing entrance, simply wade amongst the rocks before dipping into the big cenote at the foot of the falls. Lying on your back and staring at the cloudless sky as you float is the recommended way to experience Big Rock Falls. For a free, natural massage place yourself near the rocky walls and let the cascades pummel your back while also refreshing your face.
Big Rock suits both adrenaline-junkies (diving from the cliff), or relaxation lovers (wading or lying on the rocks.) Since it's deep within the reserve you are sure to have most of the place to yourself, a great opportunity to appreciate nature's creations close at hand.
You can either spend a half day enjoying the chilling water of Big Rock or after spending a couple of hours head on over to Rio on Pools, which is nearby.
How to get there:
The closest large town to the waterfall is San Ignacio where you can get a guide to take you to the site. 
After a couple hours winding through red-dirt roads you will see the entrance to the national park with a sign reading "Welcome to Mountain Pine Ride Forest Reserve." You will need to check yourself in with the park ranger stationed there.
From there, you will drive another four miles before arriving at the trail leading you to the top of the steep stairs.
Make your way down until the roaring sounds of water announce your arrival!